The last time James and I went to Portland we had an awesome time and wanted to stay for longer. So this time we stayed for two nights to see a bit more of the surrounding area. We took the Bolt Bus again and this time it was a mere $24 return for both of us – $12 each!
Thursday
We stayed at Hotel Monaco, which I'd highly recommend. It's part of the Kimpton hotel chain, which we've always had great experiences at. They do a cool happy hour between 5-6pm with free wine, beer and even a signature summer cocktail.
Our room was small and cute (note the bear on the bed – $35 if you wanted to take him home!).

We headed to a nearby food truck pod to grab lunch – a Korean bowl for James ($6ish)

and a Mexican combination platter for me ($7ish). It was very generously portioned and even came with tortillas so I needed James' help to finish it.

Sufficiently fortified, we headed to Nordstrom Rack for some shopping. James picked up some shoes and socks and I found this giant boot (size 16!) that James refused to let me buy as a bed for Mouse.
We pre-gamed a little bit at the hotel happy hour before heading to Andina for dinner.
It. Was. Amazing.
Definitely one of the top 5 meals of my life. The service was fantastic and the food was swoonworthy. It's listed as one of the more expensive restaurants in Portland but it only worked out to $50 a head (including multiple delicious cocktails) before tip. Given the quality I would have expected it to be twice the price, and at that price point it was phenomenal value.
I took some photos but decided they didn't do justice to the food. Everything was fresh and delicious and if you ever visit Portland (which you should!) you must, must eat here – and make sure you order the anticuchos.
After that amazing meal we walked to an Amazon locker to pick up a shipment of goodies. James was very jealous of my noise cancelling headphones so we got him his own pair. I also may or may not have bought a Kindle Paperwhite.
Friday
The next morning James and I got up at 6am to go hiking. We walked to a Zipcar and drove an hour to do the Eagle Creek to Tunnel Falls hike, which is supposed to be one of the signature Oregon hikes.
I heard it can be really busy in Summer so definitely wanted to do it early on a weekday. We hardly saw anyone on the way up, so it was absolutely perfect. =)
Early into the hike we took a quick detour to Punchbowl Falls.

The water felt quite cold but otherwise it looks like a pretty nice swimming hole. We walked along the creek and even though we lingered at the Falls we had the whole place to ourselves.
There was a second, smaller, waterfall a bit further down the creek.

Then headed back to the main trail and traversed some creeks and bridges. It was starting to get sunnier but we were mainly walking in the shade so it was nice and cool.
I think this section was called the Potholes. They were very soothing to walk on.

Soon after, we turned a corner and there was Tunnel Falls. You can see the tunnel which leads behind the falls – so we actually got to walk behind a waterfall, which was super cool.

And even better, we had the whole falls to ourselves! I don't mind busy hikes but it's so much nicer when you're the only ones around. I imagine that goes tenfold on a narrow hike like this one.
Look how massive it is!
For a sense of scale you can see the tunnel going behind the waterfall halfway down. And for extra scale here I am at one of those tunnels:
Some crazy people actually do cliff jumps into the water below. I think it's something like a 70 foot fall, which is high enough that you can actually injure yourself if you hit the water wrong.
A lot of people turn around at Tunnel Falls but if you keep going a little while longer you can catch another waterfall. The narrow path there is called the Vertigo Mile and I definitely noticed James looking a bit nervous at parts.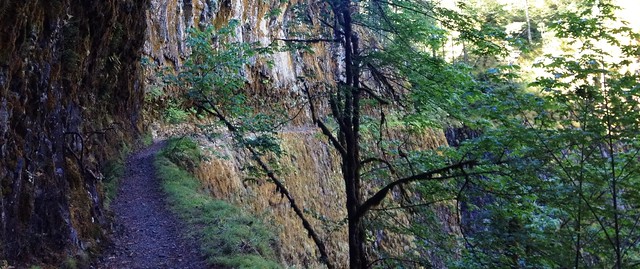 You might remember that he is a little nervous around heights. Most of the really high, narrow parts had cables (which he made ample use of) but he said he was fine as long as he didn't look down. I didn't have any problems – partially because heights don't really bother me but I guess I'm also smaller so the path was relatively wider.
After a short walk we saw Twister Falls, which was predictably twisty and totally worth the small amount of extra time it took to get there.

After that we turned around and started heading back. Unfortunately by this time it was starting to get really warm in the sun, so the walk down was much more unpleasant. We also saw a lot more people heading up, so an early start was definitely the way to go.
The hike took just under five hours going at a leisurely pace, detouring to Punchbowl Falls and taking a lot of photos. Afterwards we went to Pok Pok, which is a fantastic Thai restaurant (seriously, Portland food punches sooo far above its weight) and back to our hotel for a nap before heading out again to see … BABY WOLVES AND SNOW LEOPARDS. 
But that is a subject that deserves its own blog post =D